Wednesday.
It hasn't been an easy day. The morning started at the hospital with a needle poked in my arm filling little tubes labeled "ALT/AST" (liver function test) and "Bile Salts." Every part of my body itched with an intensity that made me wish I could strip off my clothing and fling myself into the 14 degree morning air to soothe it.
As the sun rose, the morning landscape flooded with light, turning the fresh-fallen snow into a spectacular winter wonder scene, but it felt heavy to me. Cloudy-- in spite of the clear blue sky.
It isn't long after my husband leaves for the day that the cloud breaks and the tears flow.
I can't even explain the tears. (Who ever can?)
Are they uncertainty? Fear? Anger? Crazy pregnant lady hormones? All of the above?
I don't know. All I know are the words welling up inside. A silent scream.
I don't want this. I don't want this. I don't want this.
I
wanted
to be having a normal, healthy pregnancy. I wanted to still be planning and preparing for a relaxed home birth, free of complications, IV's, pitocin, and beeping hospital monitors. I wanted to be blissfully assured that my little kicking baby boy was perfectly safe and protected and not at risk of having my own body cut his life short. I wanted all the research articles I had poured over during the last week to be wrong. I wanted Intraheptic Cholestasis of Pregnancy* to once again be a rare and freakish complication that I had never heard of. I wanted the exasperating itch to be an allergic reaction, or the simple "normal pregnancy thing" that women online condescendingly told me it was.
I drive myself to the church for mid-afternoon prayer meeting, wiping my eyes and putting on a well-practiced game face. This uncertainty is too close, too vulnerable to share. I hide my emotions even from my husband, preferring the privacy and isolation of my own conflicted mind. I smile, I participate, I laugh. I do the pastor's wife thing. And I get back in my car and silent-sob into my steering wheel as I drive away.
I don't want this.
Phrases like "It'll all work out," "Everything happens for a reason" and "God is in control" feel empty and dismissive. I believe them in theory, but they aren't speaking to me.
The air is still icy cold as I get out of the car back at home. The thermometer is hovering somewhere around 25, but I linger outside, relishing the relief the cold brings to my itching skin.
And then I see it. A lone cluster of green in the sea of white snow.
Daffodils braving the elements, pushing their tender little shoots up in spite of winter storm Stella's worst.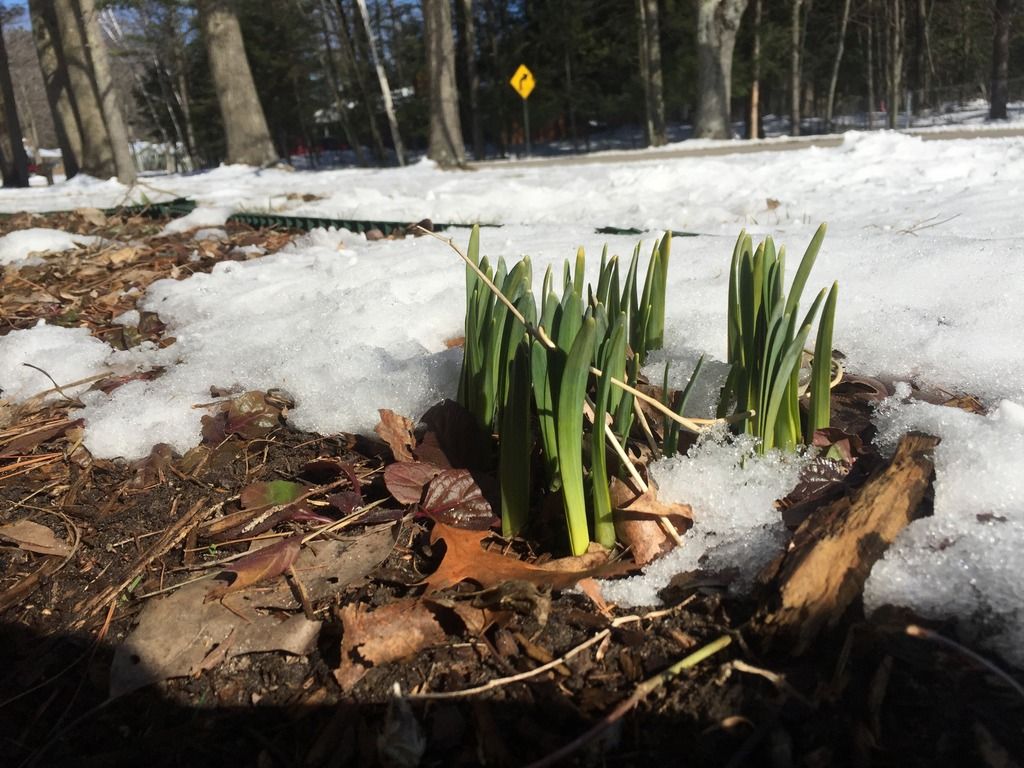 The words of a childhood song come to mind and I begin to hum.
Little flowers never worry when the wind begins to blow,
And they never, never cry, when the rain begins to fall.
Oh, it's wet and oh, so cold.
Soon the sun will shine again,
And they'll smile unto the world, for their beauty to behold.
So let it rain, let it rain, let it pour.
Let old trouble keep on knocking at my door...
If it never, never rains,
Then we'll never, never grow.
As He has so faithfully done a thousand times in my life, God pulls me out of the self-centered mess of my own mind and reminds me of the big picture.
This isn't a surprise to Him.
Nor is it a punishment.
It's a
gift
. Lovingly prepared and shipped straight from Heaven.
To
bless me.
To help me grow.
I need this trial. This blessing. This gift.
I don't know why. I don't know quite what I'll use it for, or when, but I know it's a good gift, and useful for its purpose because its from my Father and He only sends the very best.
The tears are flowing again, but the anger is gone from them.
I whisper a barely audible
thank you
and turn from the daffodils to embrace the rest of my day.
Thank you daffodils for being brave and uncomplaining and showing me the way.
And
thank you, kind, caring Father...
I truly have so much to be grateful for.
I had a smooth and easy diagnosis to a complication that in 40% of cases doesn't show up on the test, making it difficult for women to get their doctors to take them seriously. My doctor took me seriously immediately and has been nothing but supportive.
I have a great team of medical professionals taking care of me, and a wonderful midwife who gave me the push to get it checked earlier than I would have on my own.
I "just so happened" to read about this very complication two weeks before the itch started, helping me recognize the symptoms and ask about them instead of dismissing or ignoring them.
And most likely, I'll get to hold my healthy little miracle boy a month earlier than I would have otherwise and all will be well.
Or maybe not.
Maybe God only lent him to us for 34 weeks. I can't presume to know. We certainly wouldn't be the only ones who have been called to that severe of a test.
But I do know, that this test too, somehow and some way, would be a gift of love-- difficult as it would be to unwrap.
If it never, never rained, then we'd never, never grow.
(*ICP is a rare complication caused by pregnancy hormones obstructing the flow of bile and causing it to instead be leaked into the bloodstream. It has little consequence to the mother in most cases, but increases the risk of stillbirth in the infant significantly in the later weeks of pregnancy. The standard procedure of treatment is to induce by 37 weeks. We are thankful to have caught this early enough to be able to monitor our little boy and hopefully deliver him at the best and safest time. Prayers are coveted and appreciated.)