I will likely never write a true Christmas letter in my life. Christmas, though purported to be the "most wonderful time of the year" is more like "the most chaotic time of the year" for me and only the very most important things on my list of like-to-do's actually get done.
But I nevertheless value communication (though I envision many of you raising dubious eyebrows about my sincerity on this point) and I really love the newsy updates I get from family and friends around Christmas time. So I am striking a happy compromise and initiating a new tradition: behold, the New Year's Letter!
A Glance at
2011
in the Rearview Mirror
I slept through the first moments of 2011 in a cushy hotel room bed in Baltimore, MD where I was attending the Generation of Youth for Christ Conference. GYC has been a big part of my life ever since I first attended a conference back in 2004. Since then I've managed to attend six of the conferences, volunteered at three and basically consider GYC the highlight of my year. In spite of the fact that I kept myself way too busy volunteering, GYC 2010 was a time of real soul-searching for me and spiritual renewal.
I learned: Surrender brings joy.
Enjoying Washington DC on my trip to Baltimore
Returning from GYC I dove headfirst into a packed semester at Ouachita Hills College and when I came up for air five months later I discovered that I had successfully finished my second year of college. They say time flies when you're having fun, and never has it been more true for me than these last two and a half years that I've been at OHC. I am very happy and excited about my major (Secondary Education) and I wouldn't trade the tight circle of friends I have made here for anything in the world. I catch myself sometimes wishing that I didn't have to graduate... but I suppose I'll enjoy that too when the time comes.
I learned: Procrastination doesn't pay.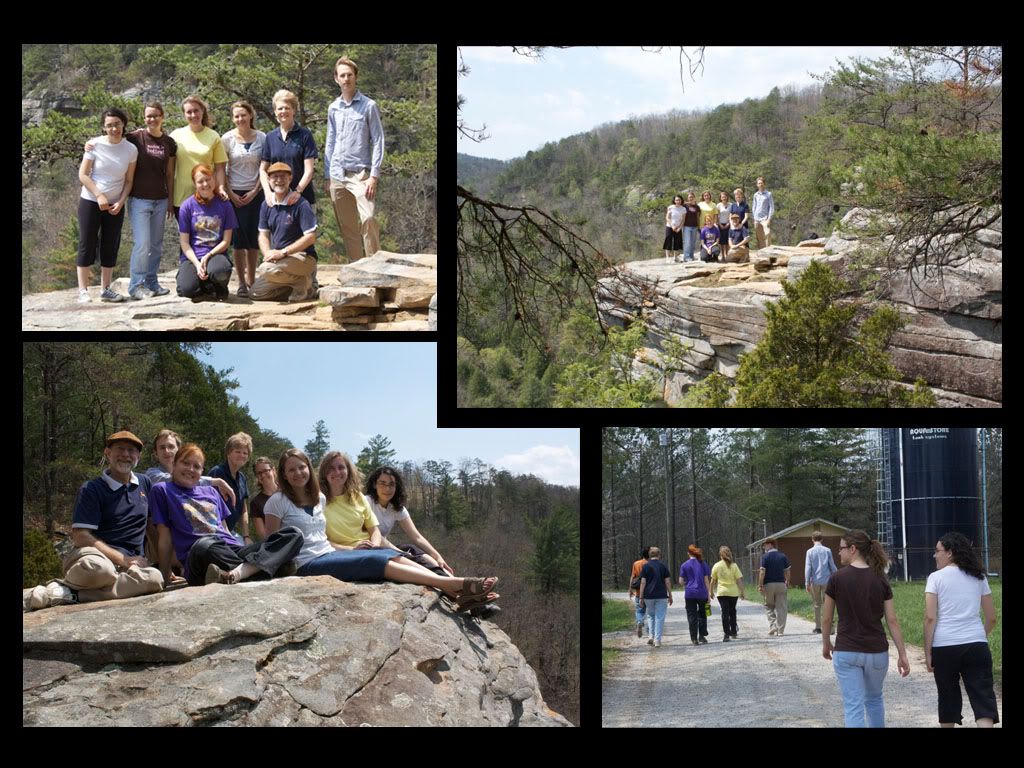 Spending Spring Break with beloved teachers, the Sarrs, in Tennessee
15 weeks of 2011 were spent canvassing. I was privileged to lead teams in Quitman, Texas (both in February and again in December); Ola, Arkansas; and Fort Smith, Arkansas. Each program was full of precious experiences with both searching souls and needy students. I was brought to the end of my human resources (physical, emotional, and temporal) over and over again and each time God proved Himself sufficient for my lack.
I learned: That God will use even fumbling, bumbling me in His work.
Canvassing in Ola, Arkansas
Janalin graduated OHC this May with her bachelors in Elementary Education. 2011 has been a real year of change for Janalin. Shortly prior to graduating, she began a relationship with Stephen Leach which is still progressing nicely as
just a relationship
at this point. (Just noting that out in the open air for all the other hundred people who haven't yet gotten the chance to ask me if they're married/engaged/planning how soon they'll have kids yet. For those who
have
asked: I love you dearly, you have given us material for many good family laughs.) She is now teaching pre-K/Kindergarten in our church school in Arkadelphia.
I learned: That change is ok.
Janalin's Graduation
The day after graduation, two dear friends got married and my incredible mother worked her tail off planning and executing the wedding. She did an absolutely fantastic job. The day after the wedding she planned to drive 3000 miles to Washington to help my Grandma who was recovering from cracking her knee into 36 different pieces. But, as you can imagine, she was absolutely exhausted and so I got to go with her to help with the driving. This was really providentially organized, because under normal circumstances I would have been packing up and heading out to a canvassing program in XYZ City the day after graduation, but this year I wasn't. For various reasons it was necessary for me to take a break from canvassing this summer and I was left free to make all the spontaneous decisions I wanted. And I made plenty!
Across the country to Grandma's. Down to Walla Walla for a graduation. Over to Aunt Janie's in Seattle. Back down to Denver to help Dad. A brief stop in Oklahoma with Inga and the Hollands. A week in Texas with Lorina (canvassing!!). Back to Arkansas briefly. Another few days with Aunt Janie in Seattle. A few glorious days deep in the heart of Washington's wilderness country savoring mountains, trees, streams and the like. A family reunion in my old familiar Columbia River Gorge. Down to Weimar, California for a couple days. And finally a non-stop road trip from Cali back to Arkansas with my dear friend, Sierra. And I loved every minute of it. :-)
I learned: My character still needs a lot of refining, but my God is faithful to work in me to will and to do of His good pleasure.
Summer in Washington
Crazy family moments: Good times in Jake's Hummer H1, and checking out what its like being a slug with Aunt Sherie. Because everybody has to try out wearing slug antennae at least once in their life.
Yosemite with Sierra and Daniel
Christmas found me recovering from my most intense semester yet, leading an all-girls canvassing program in Quitman, TX. God graciously opened up a place for my canvassing team in a home owned by the warmest, most loving hearts on earth. Bill and Alice Kernes and their family are truly some of the kindest people that have ever graced the planet. They not only opened their home to my little canvassing program and provided more than enough love and hugs to go around, but they also welcomed us into their holiday festivities just like we were family.
I learned: A ton about unconditional love.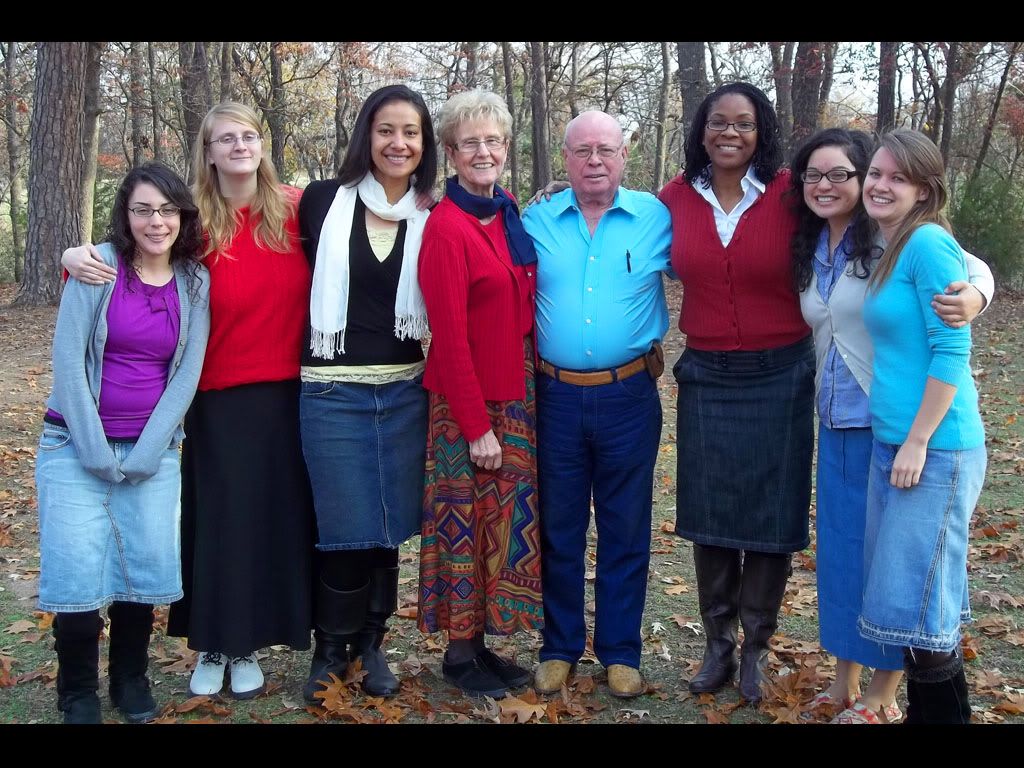 My girls with the Kernes
Grandma Alice and Grandpa Bill
2011 ended the same way it began-- in a comfy hotel room at GYC. This year I had the privilege of taking on a little more responsibility with registration so I was busier and happier than ever. The theme of the conference this year was "Fill me: our earnest plea," and as I knelt in the auditorium with 4000+ voices murmuring in prayer around me, some wiping away tears of repentance, I was awed at the presence of the Spirit. I didn't feel any special warm feeling, but His work was evident in the softened faces and sweetened hearts of those in the room.
I learned: The work of the Spirit reveals itself in the fruits of the Spirit.
2011. It had it's downs, but more importantly it had some really amazing up's too. Here's to an incredible God who truly "doeth all things well." I have never yet regretted trusting Him.
Much love to all my family, and to my friends who are like family, and that should include every one of you.
Know that my sad lack of communication abilities (and time) in no way reflects the amount of love in my heart for you. I think of each of you often and pray for you.
Be faithful, time is nearly gone,