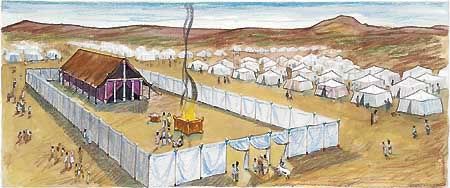 Ever thought about what it must look like when smoothly beaten gold reflects the bright shekinah glory of God Himself? Of what purple tapestry must look like when the gold angels woven into it catch that light and sparkle it in a thousand different directions?
The heart of the sanctuary was a place of exquisite beauty-- beautiful in it's own right, but made 100 times more so by the presence of God.
But isn't it interesting that that beauty was
inside?
The gold was covered with a plush, purple gold-embroidered tapestry.
The purple was covered with pure white goat skins.
The white was covered with ram skins dyed a deep scarlet, red.
The red was covered with a simple, humble, plain brown covering of animal skins.
These were "so arranged as to afford complete protection." (PP 347)
But what did the tabernacle need protection from??
Not from the weather-- the pillar of cloud protected from that.
The tabernacle needed protection from marauding, plundering enemies riding across the barren desert who would be dazzled at the sight of gold and kill to get it.
Shouldn't my body, "the temple of the Holy Ghost" (1 Cor 6:19) be clothed in the same way?
Shouldn't my "gold" be hidden from enemies who would say "That's sexy, I want it"?
And then covered with the justifying blood of Christ and sanctifying spotless righteousness of Jesus.
The truest beauty is the beauty of the soul that is within--the beauty of the glory of God.
The sanctuary was "clothed with humility" (1 Pet 5:5). It was simple, humble, symmetrical, shapely and beautiful in form. Yet it didn't flaunt outward allurement.
It's simplicity
was
it's allure.
"[People who cultivate beautiful thinking] will have no need to be adorned with artificials, for these are always expressive of an absence of the inward adorning of true moral worth. A beautiful character is of value in the sight of God. Such beauty will attract, but not mislead. Such charms are fast colors; they never fade." (HR, August 1, 1871 par. 14)